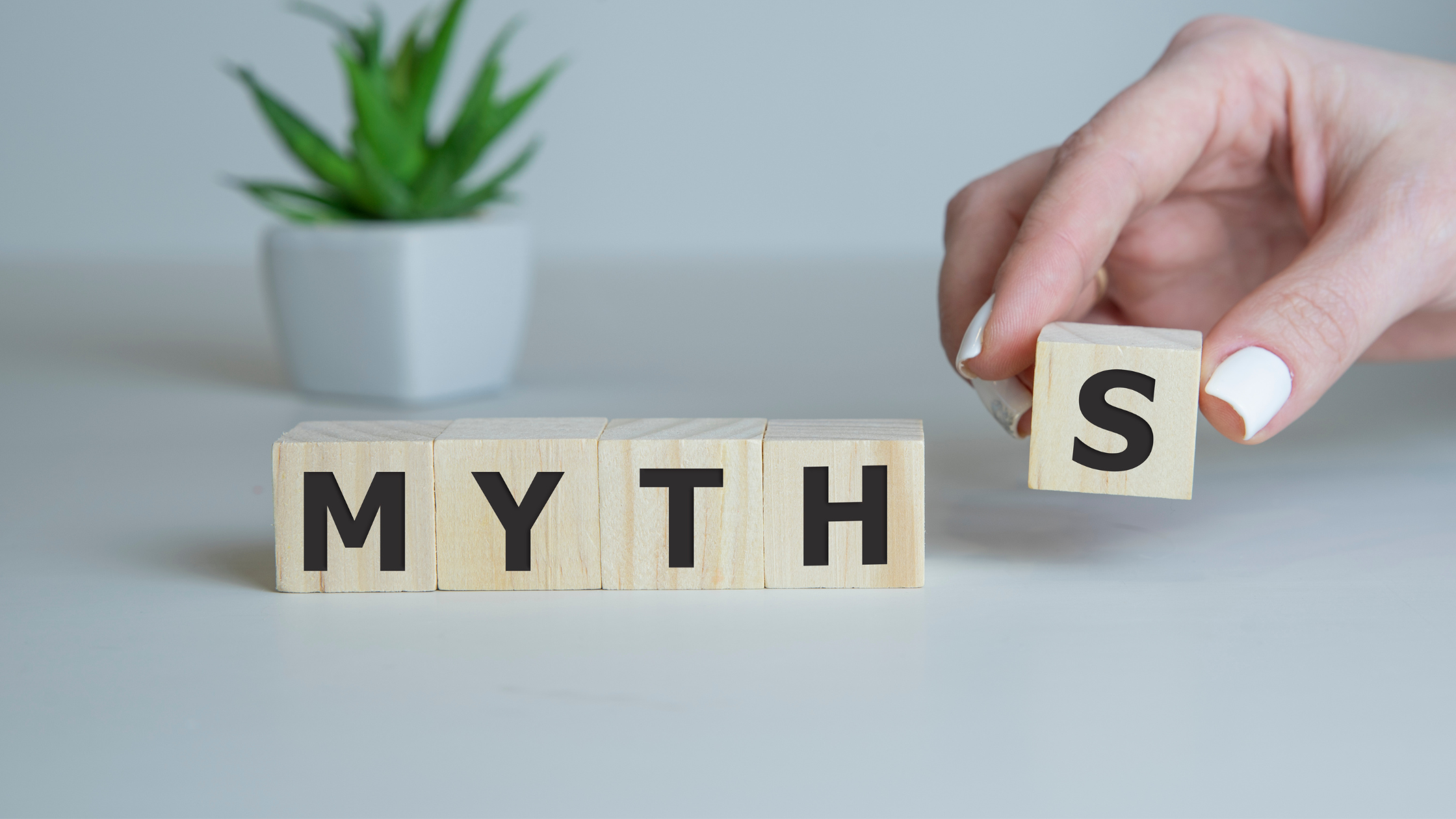 Understanding ADHD is a vital step towards dispelling the misconceptions that surround this neurodevelopmental condition. These misunderstandings often deter families and individuals from seeking the necessary support. In this article, we aim to address and correct eight common myths about ADHD so you can help yourself or a loved one thrive. But before we dive into these myths, here's a fantastic opportunity to enhance your knowledge:
🌟 Join our FREE masterclass on ADHD: Fears and Fallacies, presented by Dr. William Dodson. You don't want to miss this chance to gain valuable insights and practical strategies. Sign up now!
Myth 1: Only boys or men get ADHD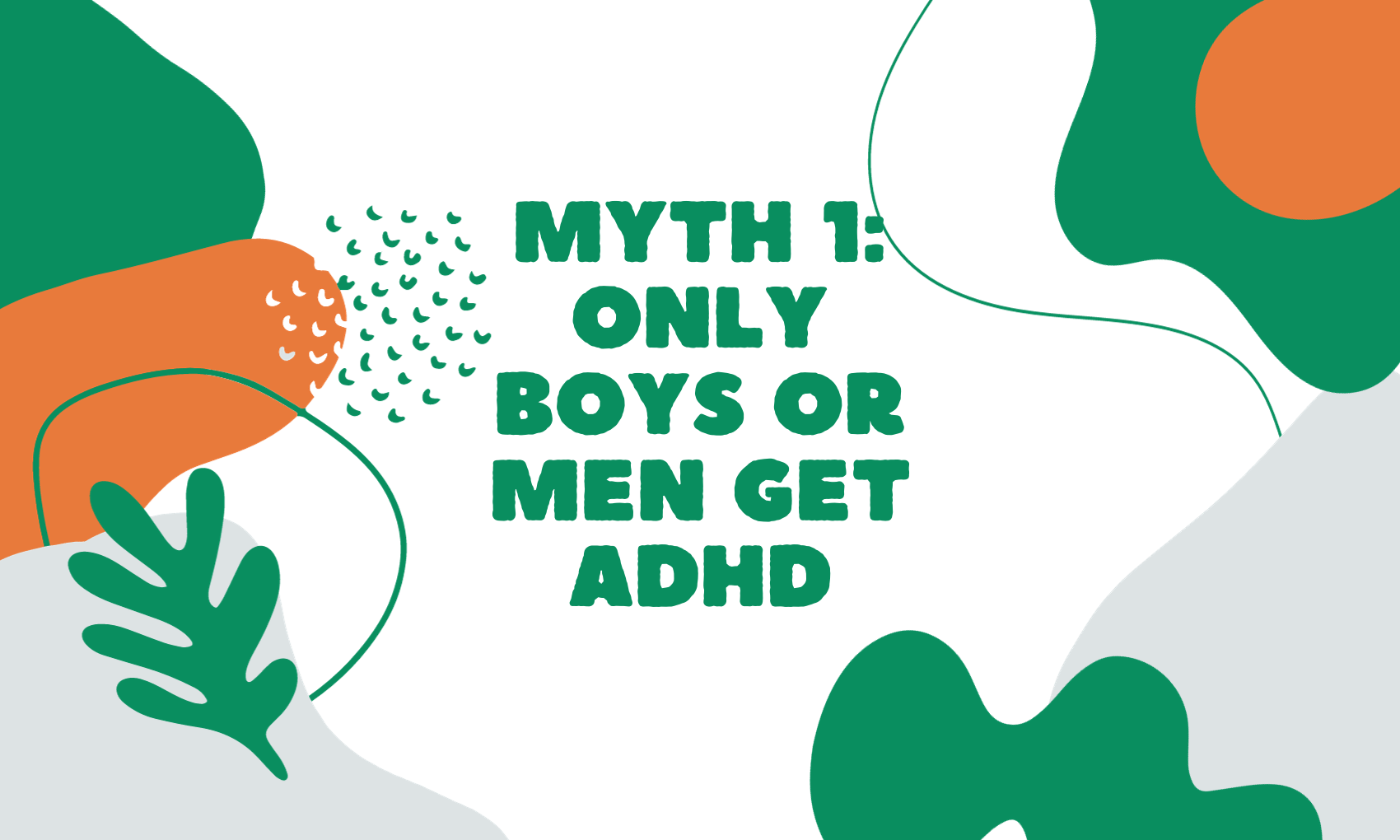 Fact: ADHD is the most common neurodevelopmental condition in childhood, affecting an estimated 5-7 per cent of children, both boys and girls. One might be able to pick up certain behaviours in boys, such as talking excessively, constantly fidgeting, or interrupting others. However, internalising behaviours such as daydreaming or leaving tasks unfinished are common among girls. These symptoms in girls are less visible, attracting less teacher attention than the boy's behaviour.
Myth 2: Children with ADHD have an intellectual difficulty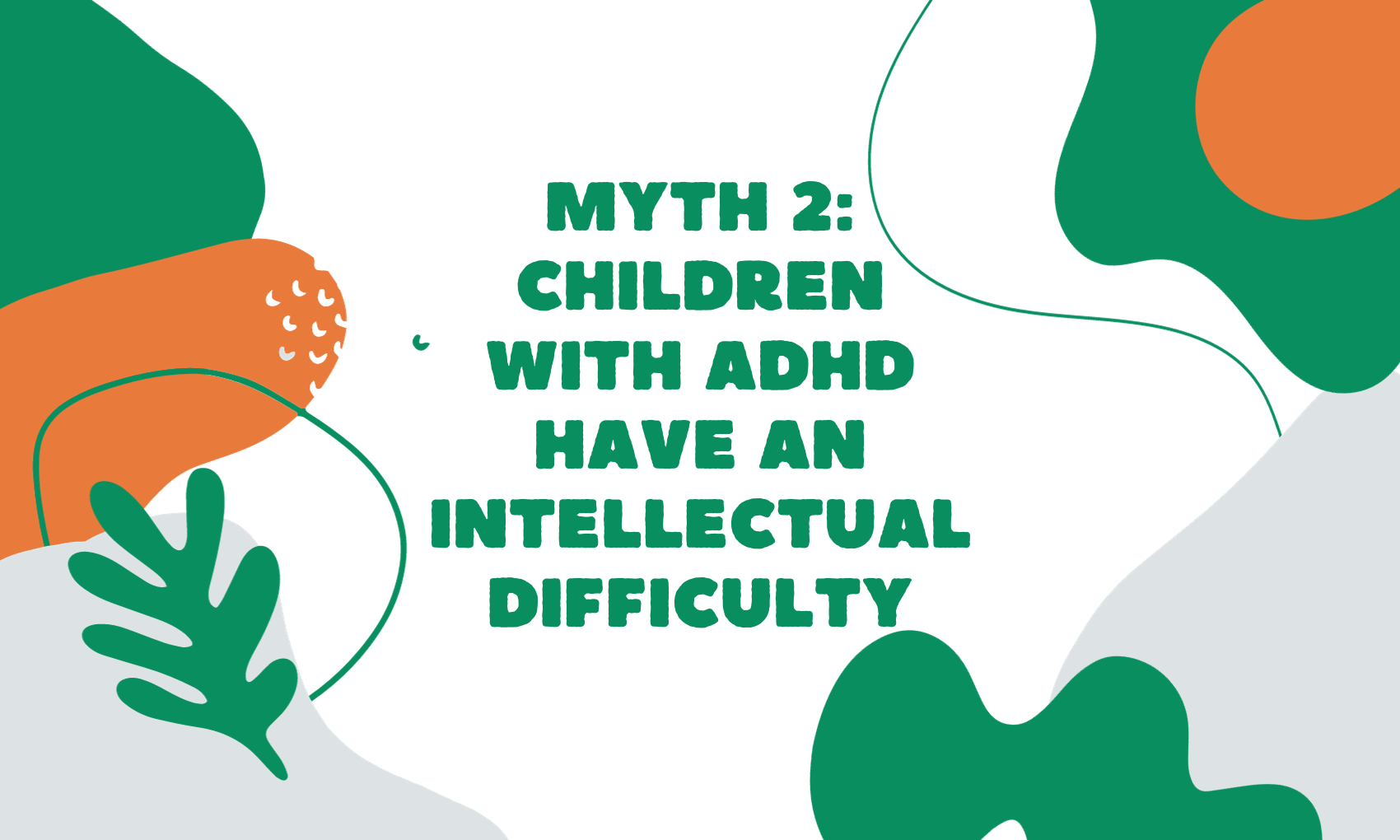 Fact: Fact: ADHD can affect learning, but it is not a learning disability. Some challenging effects of the condition, such as difficulty concentrating and hyperactivity, may impact a child's learning ability. Rates of learning disorders among children are more likely to have an ADHD diagnosis since symptoms may appear very similar to those of a learning disability. While ADHD can present challenges, the condition has many benefits, such as resilience and positivity.
Myth 3: ADHD will disappear after childhood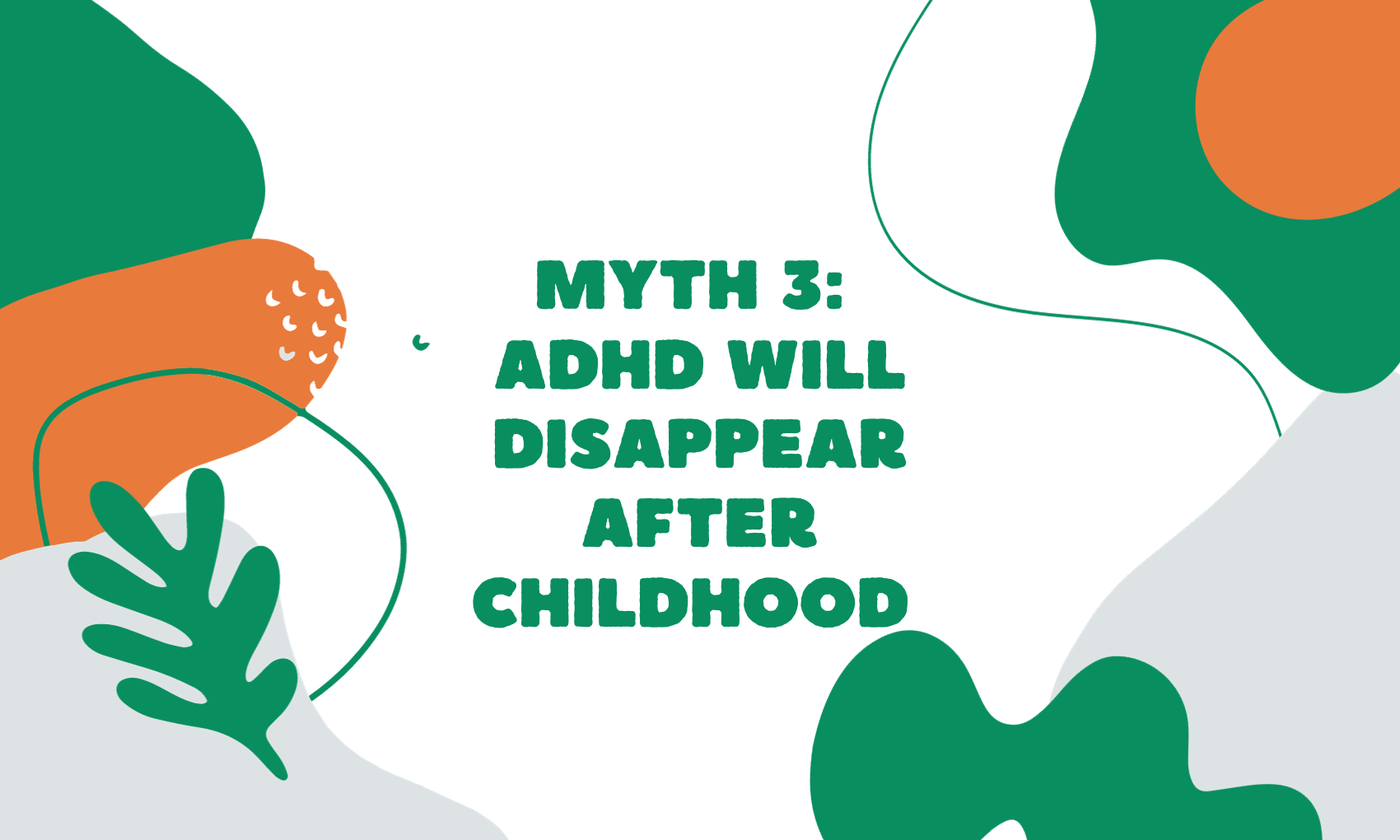 Fact: While some children may recover from ADHD by age 21 or 27, most ADHD symptoms and impairments persist in 50-86% of cases (ADHD Ireland). Most kids are inattentive, impulsive, and hyperactive at times. However, for a diagnosis of ADHD, these symptoms must interfere significantly in multiple places, such as school and home. ADHD is a childhood disorder, meaning the symptoms must be present before adolescence. Symptoms can start in preschool, but diagnoses can only happen later in childhood. Hyperactivity and impulsivity are more pronounced in young children, whereas high-schoolers and young adults often display more difficulty with attention.
Myth 4: Children with ADHD are always hyperactive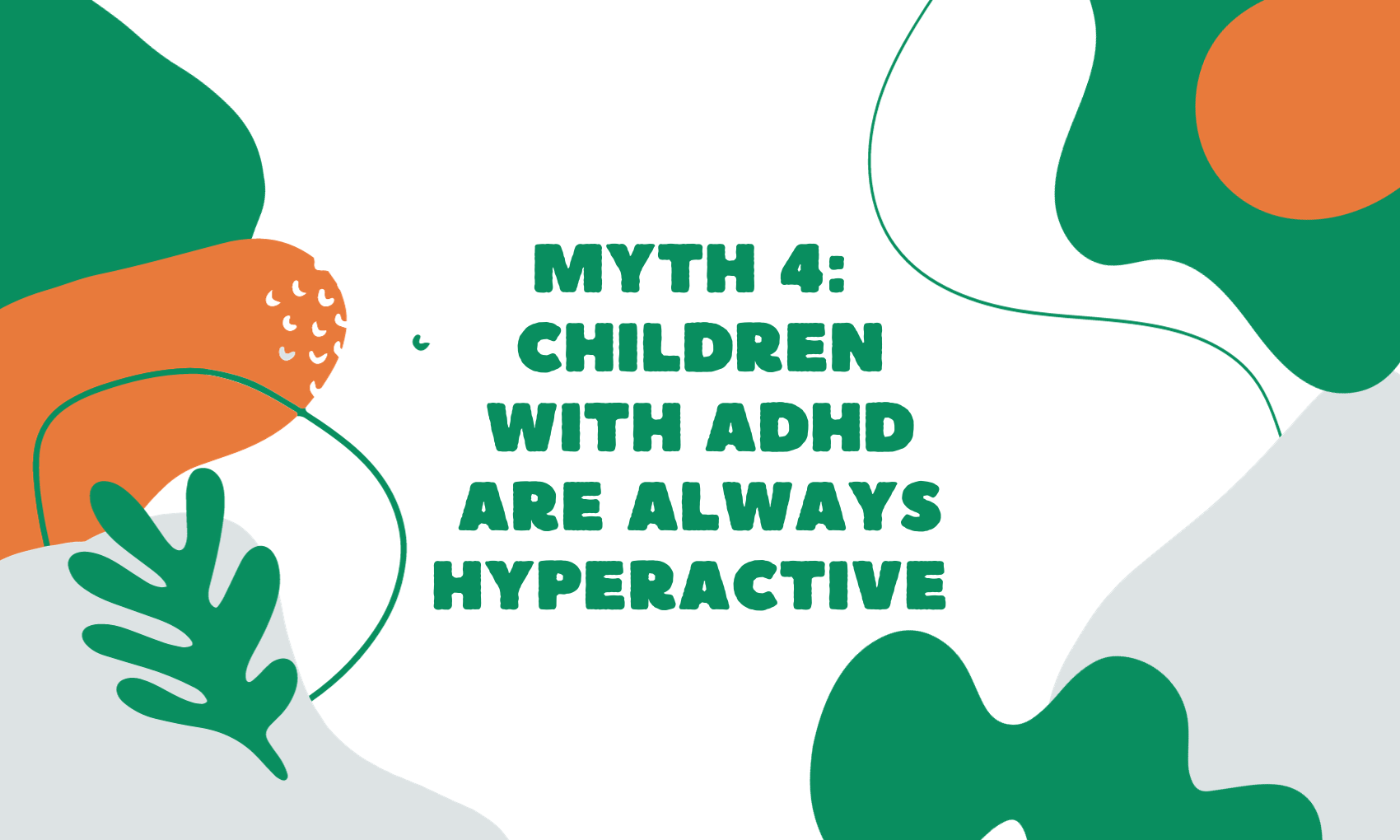 Fact: While many children with ADHD are very energetic, high energy alone is not enough to warrant a diagnosis. Children with some forms of ADHD are not high-energy at all. To qualify for the diagnosis, a child must have a chronic, pervasive problem with their ability to regulate activity level and impairment in their ability to inhibit and control impulses. The primary symptoms of ADHD are hyperactivity, impulsivity and inattention. You can read about ADHD symptoms in our previous post here.
Myth 5: Bad parenting can cause ADHD in children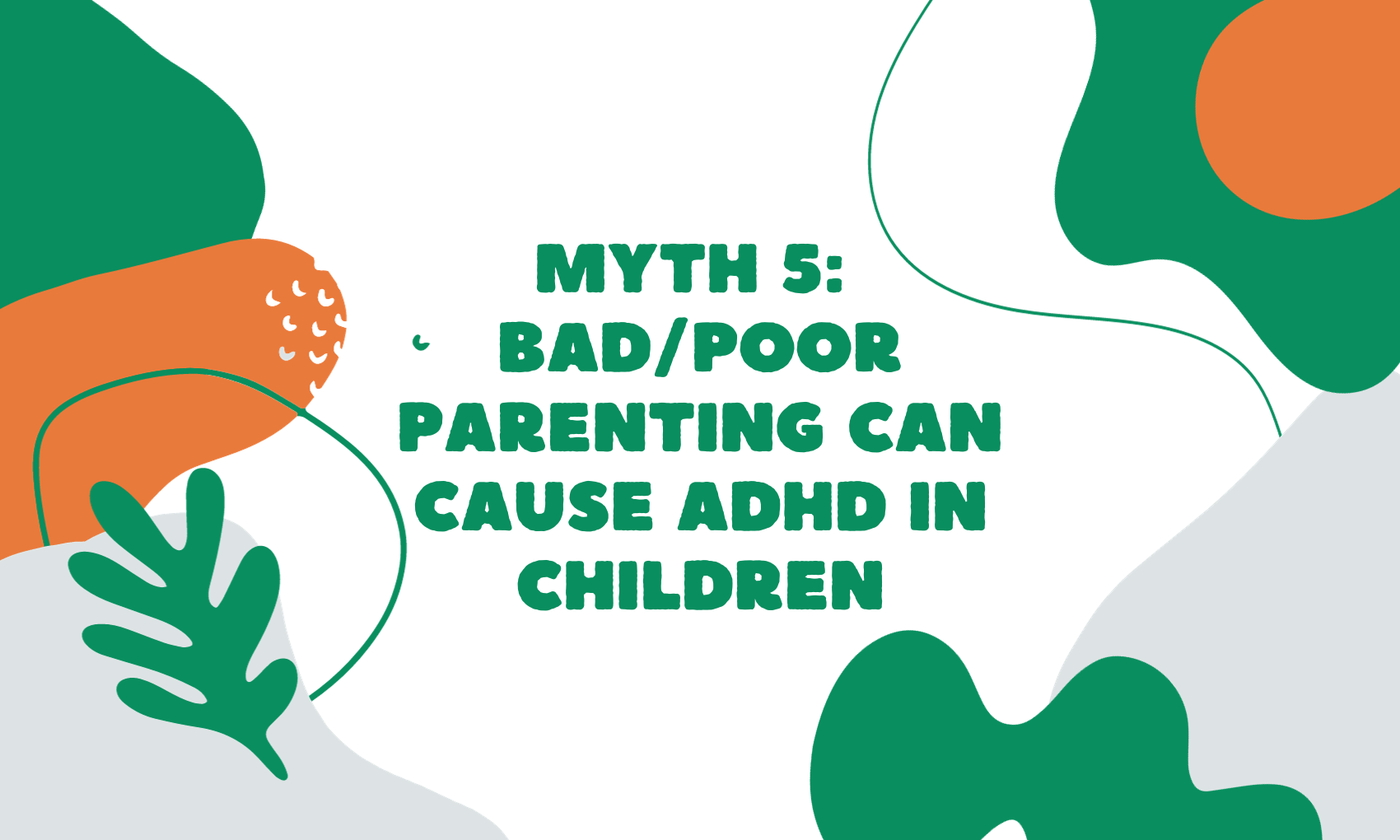 Fact: While experts don't yet fully understand the causes of ADHD, genetics plays a significant role. Studies have shown that people with ADHD are born with ADHD and will have ADHD regardless of who is raising them. "ADHD is genetic, and genes are the largest factor causing a person to have ADHD." Parenting doesn't contribute to the development of ADHD, but it's almost always part of the solution. Specific parenting techniques can help improve the child's symptoms and make the disorder more manageable.
Myth 6: Children with ADHD are lazy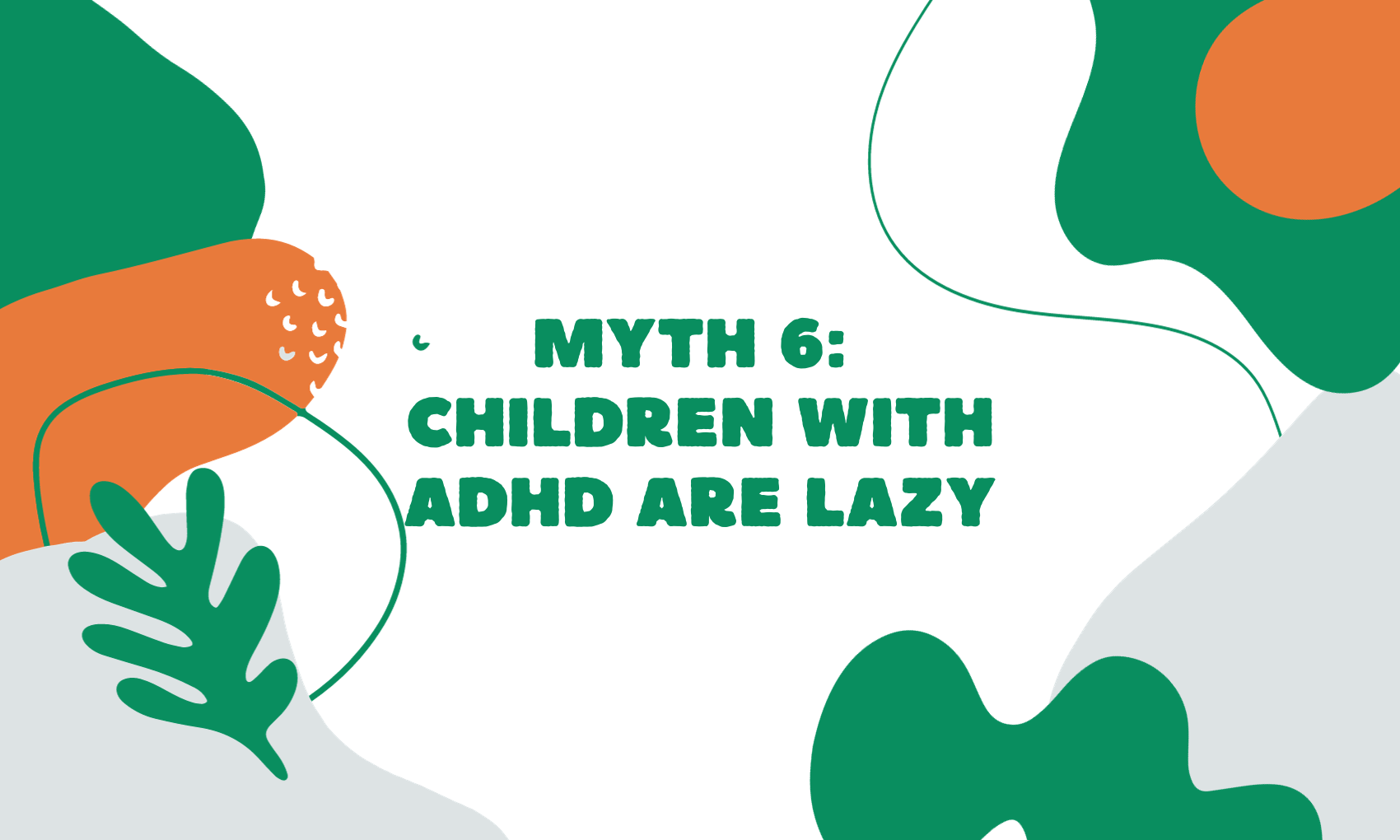 Fact: Children with ADHD are no different from other children who want to please parents and teachers. They exert as much effort as those without the disorder. Still, their condition keeps them from getting to the finish line because they're easily distracted along the way. Still, a better way of putting it would be a lack of motivation to begin tasks, especially ones that aren't interesting. They'll eventually get there; it will just take a little longer. It can be challenging to distinguish between ADHD and normal "kid behaviour." If you spot just a few signs, or the symptoms appear only in some situations, it's probably not ADHD. But, on the other hand, if your child shows several ADHD signs and symptoms that are present across all cases—at home, at school, and at play—it's time to take a closer look.
Myth 7: ADHD is not a 'real' condition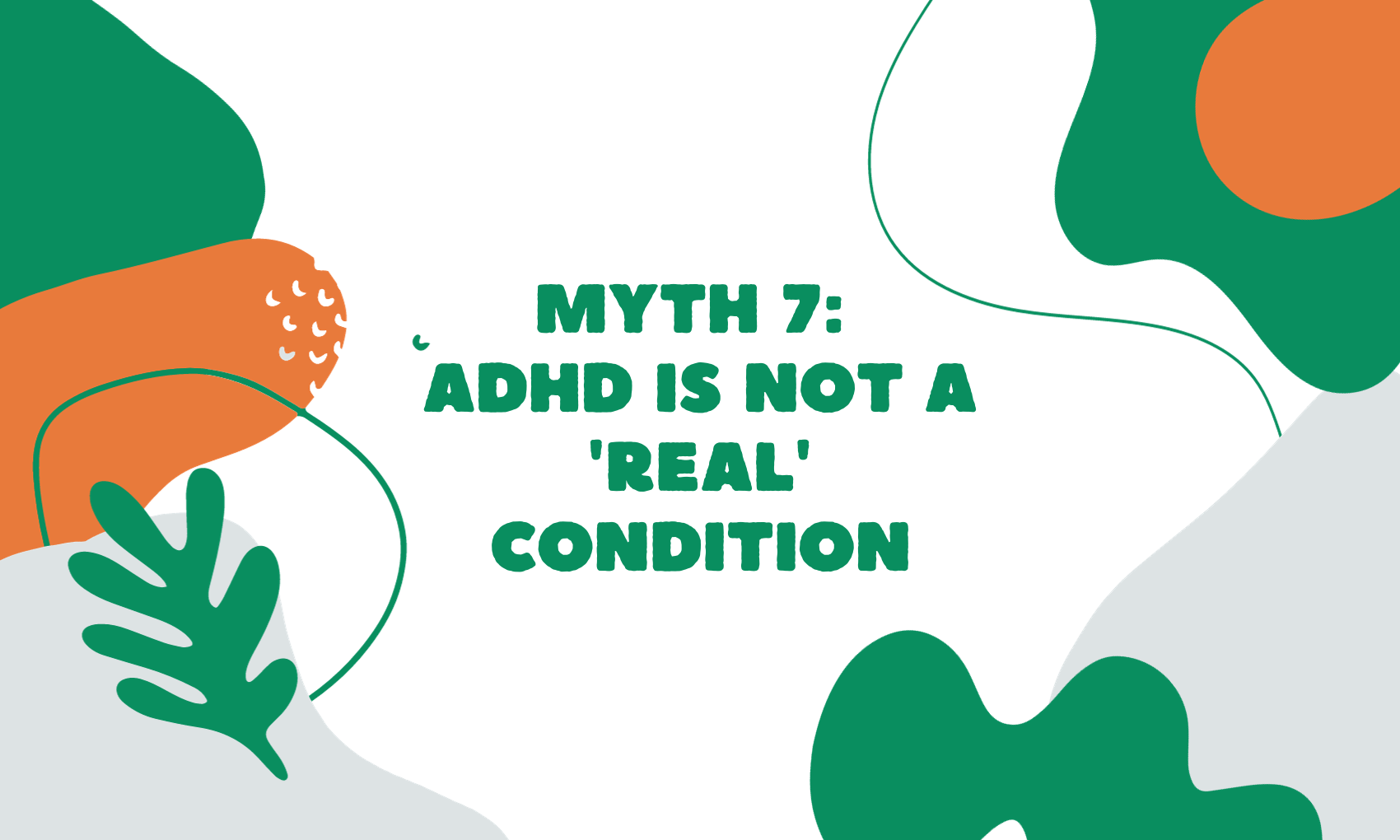 Fact: One widespread misconception is that ADHD is not considered a behavioural disorder, despite the diagnosis currently relying on identifying symptoms through behavioural patterns. ADHD is a common neurodevelopmental disorder that typically appears in early childhood, usually before seven. ADHD makes it difficult for children to inhibit their spontaneous responses—responses involving everything from movement to speech to attentiveness. As a result, it's common for kids who can't sit still, who never seem to listen, don't follow instructions or blurt out inappropriate comments. Unfortunately, these children are labelled troublemakers or criticised for being lazy and ill-disciplined. ADHD is like having a mighty Ferrari engine of a brain with bicycle brakes. So your challenge is to control it.
Myth 8: Too much sugar causes ADHD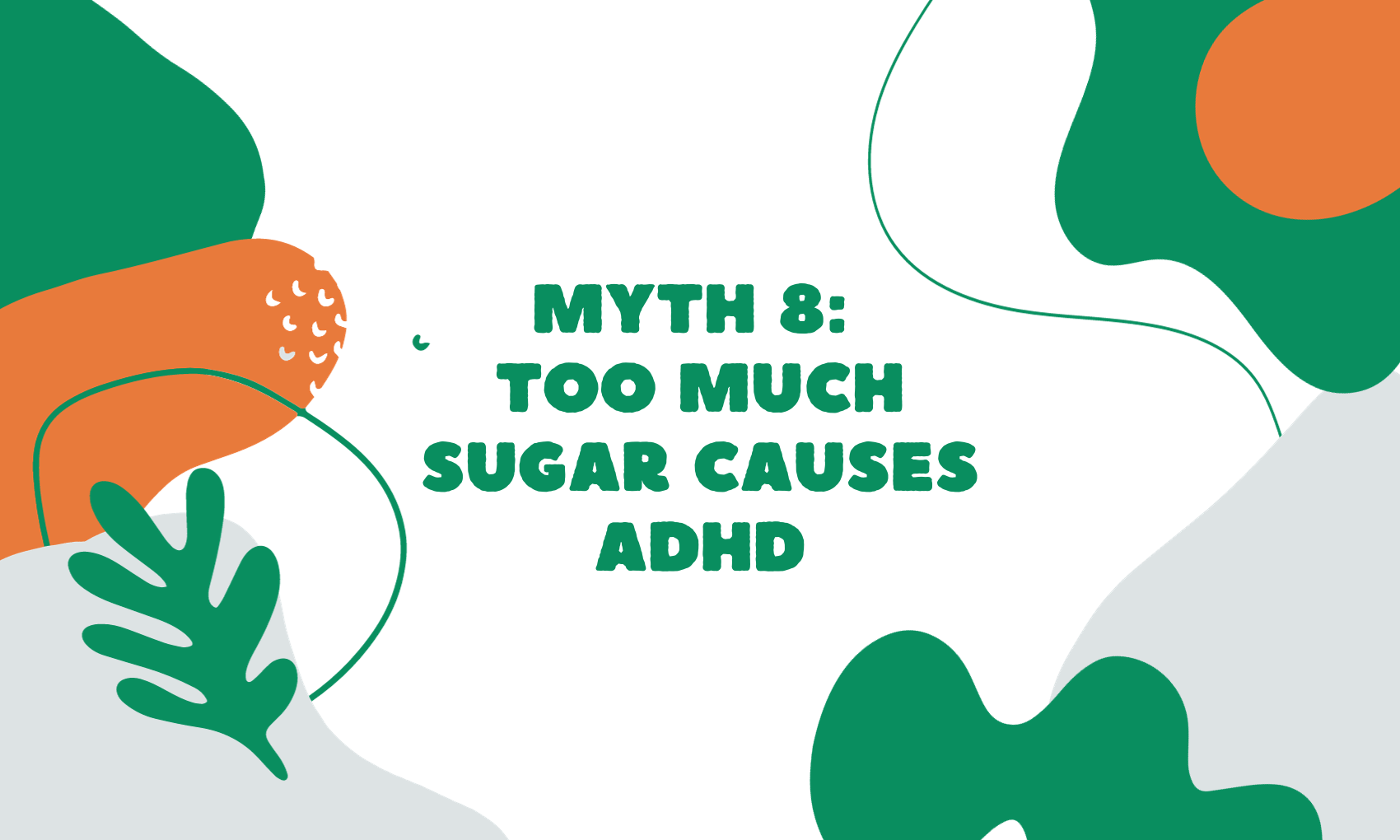 Fact: Scientists continue to study the exact relationship of ADHD to environmental factors but point out that there is no single cause. The following factors are NOT known causes but can make ADHD symptoms worse for some children:
watching too much television,

eating sugar

family stress (poverty, family conflict)

traumatic experiences
ADHD symptoms themselves may contribute to family conflict. Even though family stress does not cause ADHD, it can change the way ADHD presents itself and result in additional problems such as antisocial behaviour.
Conclusion
ADHD is a complex condition, and dispelling these myths is essential in providing the right support. If you want to equip yourself with the latest evidence-based information and practical strategies to help your ADHD child thrive, don't miss our 'Thriving in ADHD' course. It's designed to help you control and manage their behaviours, enhancing their academic, social, and personal skills for success. Sign up now!