Most students take notes in school or university during lessons, but very few take valuable notes. Several studies have shown that, on average, students record only about one-third of the ideas in a class, leaving them ill-equipped if they want to use their notes to revise later on.
We can consider two aspects of notetaking, the process and the product. First, process notetaking is the actual taking of notes, while product notetaking is the written notes that are available for later review. Occasionally, the notetaking process is beneficial since it forces the student to attend, pick out key points, and record them succinctly. But does it? And is it any better to listen in class without notes? Research suggests that just listening in a lesson isn't any better unless study notes are later available for review.
The important part of note-taking is the product, the actual notes, as these are the focus for later revision. It is this revision that is critical. The study notes must be accurate and reasonably comprehensive if students want to study effectively. Still, the research indicates that students' notes are often inaccurate or inadequate (especially diagrams and numbers), with insufficient information to give a complete account of the lesson. Part of the problem is that many students record verbatim what the teacher says, which is particularly ineffective and detrimental to learning.
So what can teachers do to improve their students' notetaking?
You might consider giving your students comprehensive notes to study later as a teacher. Grind schools often use this approach, which can be very effective in raising achievement in subsequent examinations. However, many teachers baulk at giving such notes and feel that students should be more proactive and that giving comprehensive notes would constrain the students' engagement with the material.
The solution to this may be to provide partial notes that need to be supplemented by the student. These partial notes can take many forms, such as giving a lecture outline with headings and subheadings of the material; providing an organisational grid in which the student can insert details. For example, giving students illustrative diagrams showing the key components of a system, with labels explaining how the different parts interact. In addition, you could provide students with copies of a PowerPoint presentation and sufficient space for study notes.
These examples have the same purpose- to free the student from trying to recognise and record the main ideas and how they are organised and allow them more time to add details and examples, which are often crucial to a complete understanding of a topic.
Download our Notetaking Checklist & Example
Sometimes it is not feasible or desirable to provide partial notes. Still, if more teachers present the lesson in an organised manner, it will be easier for students to understand it and take clear, coherent notes. In some instances, students can record the lesson and organise it themselves. But, the task is easier if teachers present the information in a structured fashion, allowing students to spend more time taking notes and less time organising the information. Teachers can give a lesson plan, for example, ("In this lesson, we will first define…. Then we will look at some examples …. And finally, we will consider how it differs from…."). Teachers can signal when the following topic changes ("Next we look at applying the theory to…."). Throughout the lesson, teachers can draw attention to essential topic points that need to be written down either by verbally cueing them ("An important point to remember is…"; "It's worth noting that…") or simply by pausing so that students realise they need to note that specific point.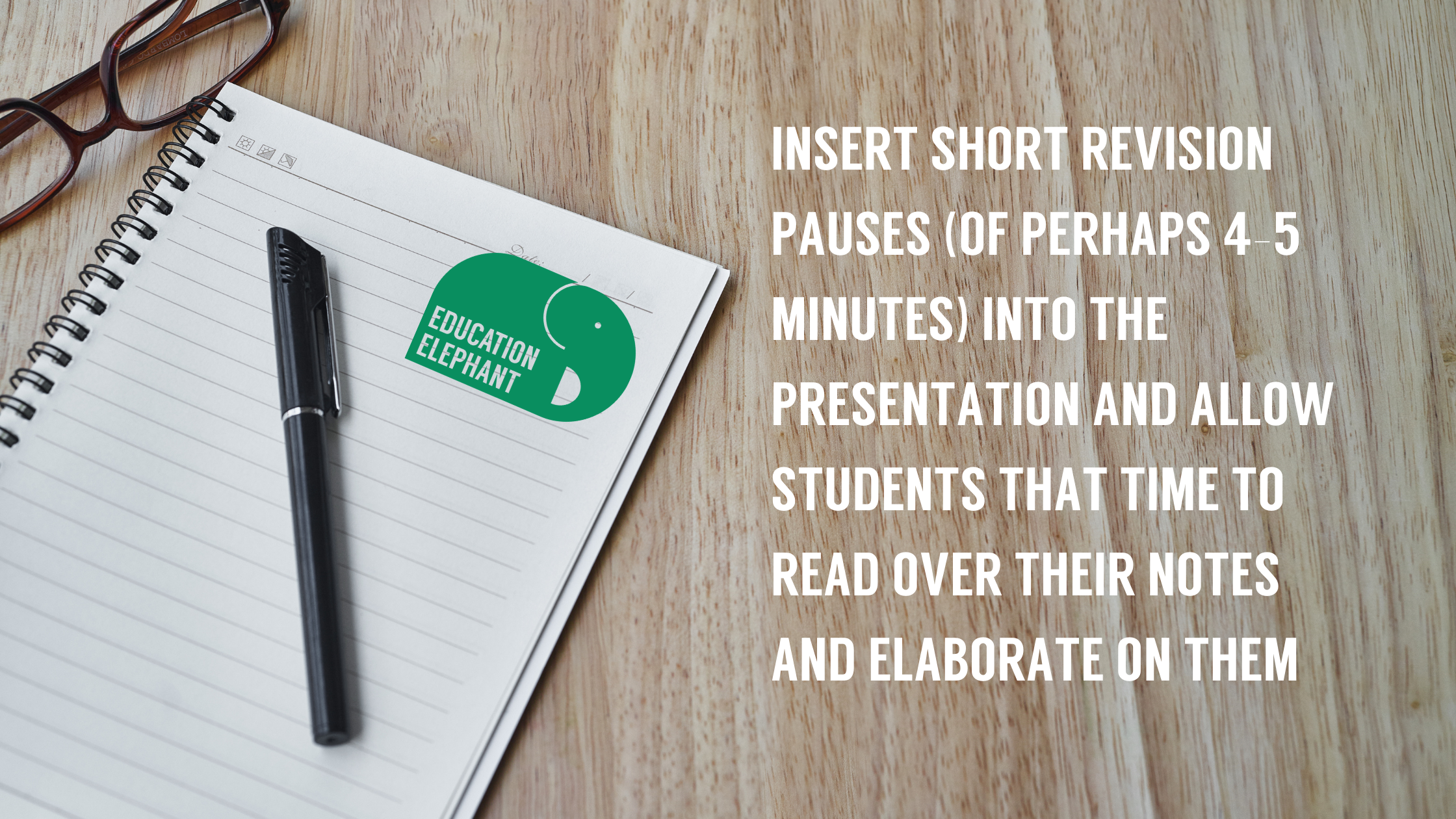 These pauses are essential, as students often miss significant points because they are still writing earlier notes. Therefore, having teachers present slowly and allowing time for notetaking is very helpful for students. One particularly effective strategy is to insert short revision pauses (of perhaps 4-5 minutes) into the presentation and allow students that time to read over their notes and elaborate on them. This exercise is even more effective if done with a partner so that they can share notes and contribute their understanding and recall of details.
Finally, students take more notes if they can view the lesson more than once. Of course, you will not repeat the same class to the same individuals, but you might want to allow students to record the lesson on their smartphones so they can view it again.
In summary, notetaking per se is of limited value; the value is in the quality of the notes that the student has for later study and review. Teachers can help students become better notetakers by changing some of their behaviour. By organising lessons well and giving students an organisational structure, teachers can help students understand the logical sequence and connections within the content. Through verbal cues or pauses, teachers can highlight the crucial points that students need to record. Students can record better notes by not rushing presentations and giving students time to attend to important lecture information. Finally, by allowing short pauses for reviews within the class and highlighting the importance of reviewing notes later, teachers can help students create accurate and complete notes that will serve them well for later study.
Download our Notetaking Checklist & Example
Kiewra, K., Colliot, T., & Lu, J. (2018). Note this: How to improve student notetaking IDEA
paper #73. Available from https://files.eric.ed.gov/fulltext/ED588353.pdf